The Crème Shop
Regular price
Sale price
$ 3.00
Unit price
per
Sale
Sold out
Description
Does your skin look tired and lifeless? Are you prone to acne and blackheads?
No matter where you go, there's no escaping the elements that damage the skin. It's no wonder that only a blessed few are fortunate enough to have supple, flawless skin.
And there's the inevitable fact - we all have to deal with the ravages of time. Your skin will always be at the mercy of the natural aging process.
Take control! Battle the elements that damage your skin with The Crème Shop Turmeric Face Mask.
We no longer have to be mere victims to the elements that damage our skin. With sophisticated products by The Crème Shop, we can now take control and provide it with the TLC it deserves.
This Turmeric mask combines the key ingredients of Collagen, Honey Extract, Ginseng Root, Turmeric, and much more nature's best ingredients. From preventing acne to achieving flawless complexion, it's got everything you need. Even celebrities use it!
Turmeric promotes unparalleled skin, where it is considered sacred in some cultures due to its numerous benefits which include combating acne, reducing oily glands, brightening discolorations, hydrating dry skin, and revealing a youthful complexion.
Here are more reasons why our Korean face mask is your ally to a healthy, glowing skin:
Turmeric has been proven to absorb harmful substances, reducing bacteria and harmful wastes in your skin.

Turmeric combats wrinkles and age spots.

Turmeric helps correct discoloration, soothes acne, eczema, dryness.
Have a healthy, radiant and flawless facial skin. Add The Creme Shop Fusion Face Mask to your cart TODAY!
Benefits of Turmeric
Has

 

Anti-Inflammatory

 

Properties
Fight off

 

acne

Reduces

 

dark circles

Protect against

 

sun damage & aging
Reduce appearance of

 

stretch marks

Soothe

 

dry 
Made in Korea
0.81 oz
100% Cruelty-Free
Not Tested on Animals
How To Use
Apply to clean, dry skin.
Leave mask on for 10-15 minutes, or until dry.
No rinsing necessary! Allow skin to absorb nutrients.
May be refrigerated before use for a cooling effect.
Ingredients
Water, Glycerin, Glycereth-26, Alcohol Denat., Xanthan Gum, Hydrolyzed Collagen, Honey Extract, Panax Ginseng Root Extract, Lycium Chinense Fruit Extract, Curcuma Longa (Turmeric) Root Powder, Glycyrrhiza Glabra (Licorice) Root Extract, Glycine Max (Soybean) Seed Extract, Bambusa Vulgaris Extract, Hordeum Vulgare Seed Extract, PEG-60 Hydrogenated Castor Oil, Phenoxyethanol, Disodium EDTA, Ethylhexylglycerin, Fragrance
Share
View full details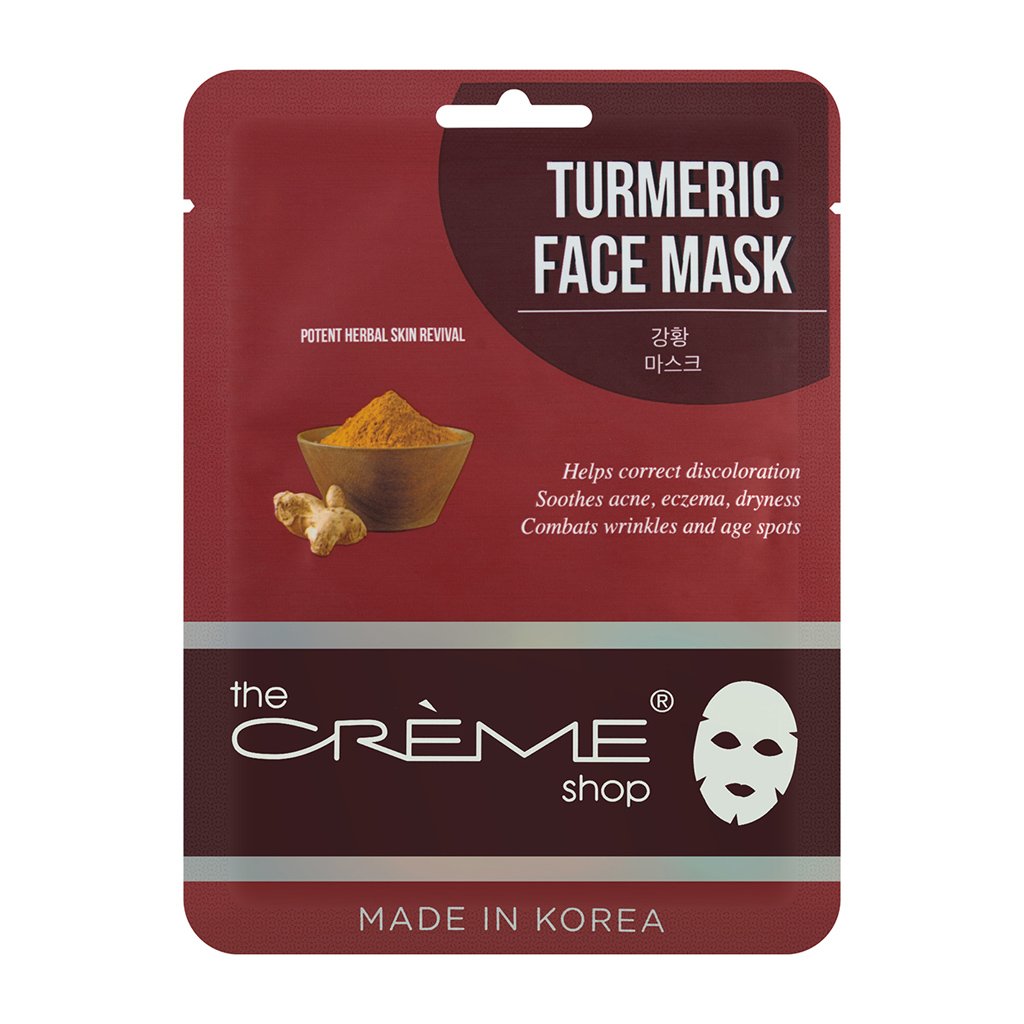 Skin Type:
Oily, Sensitive
Skin Concern:
Acne-Prone, Signs of Aging, Hyperpigmentation, Inflammation
YES! YES! YES!
A must have. The health benefits of turmeric are amazing. Too many to list here. But this mask will make you look good, AND it good for you! I wish I could get 100 of these. I AM OBSESSED WITH THIS MASK! Never stop making this, because it is truly amazing. I. AM. OBSESSED. WITH. THIS. TURMERIC MASK. !!!
Skin Type:
Combination, Dry, Sensitive
Skin Concern:
Inflammation, Dryness/Hydration
Great for Eczema :)
I have the worst eczema flareups and recently some of the products that I used to use to soothe the skin haven't been working. I was itching and scratching on my forehead and the areas were enflamed and risen from all the damage and irritation. I used the mask for the first time and you could visually see the difference in my skin. It was no longer red and irritated and the texture of my skin had gone back to normal. The mask was extremely soothing and smelled good. I now use this mask once a day and keep my skin itch free for around 24 hours. I love this product!
Skin clearer with one use
These masks are amazing for sensitive skin! My skin is prone to redness and breaking out, so I take caution with trying out new products, but these worked like a charm! My acne was visibly smaller and my skin had less hyperpigmentation.
Calms Sensitive skin
I have extremely sensitive break out prone skin that is calmed and cleared by this product. I love it
Great Mask
This mask was really great. I kind of expected it to burn, but it was really soothing to my acne and diminished some of my redness.