The Crème Shop
Regular price
Sale price
$ 23.00
Unit price
per
Sale
Sold out
Description
I ❤ Clear Skin - Hydrocolloid Acne 24 heart Patches
Adhesive patches that fight pesky pimples pain free.
Our Hydrocolloid Acne Patches conceal pimples and extract impurities from the skin, resulting in a pain free solution to blemishes. Hydrocolloid patches work by pulling out oils and secretions while simultaneously healing the tissue around the infected area.
Conceals and heals
Protects against infection
Extracts impurities
Made in Korea
Cruelty-Free 
Not Tested on Animals
How To Use
After cleansing your skin, apply sticker, tacky-side down onto blemish.
For best results, wear for 6 hours, or overnight use.
Don't apply any skin treatments or moisturizers between the patch and your skin.
Share
View full details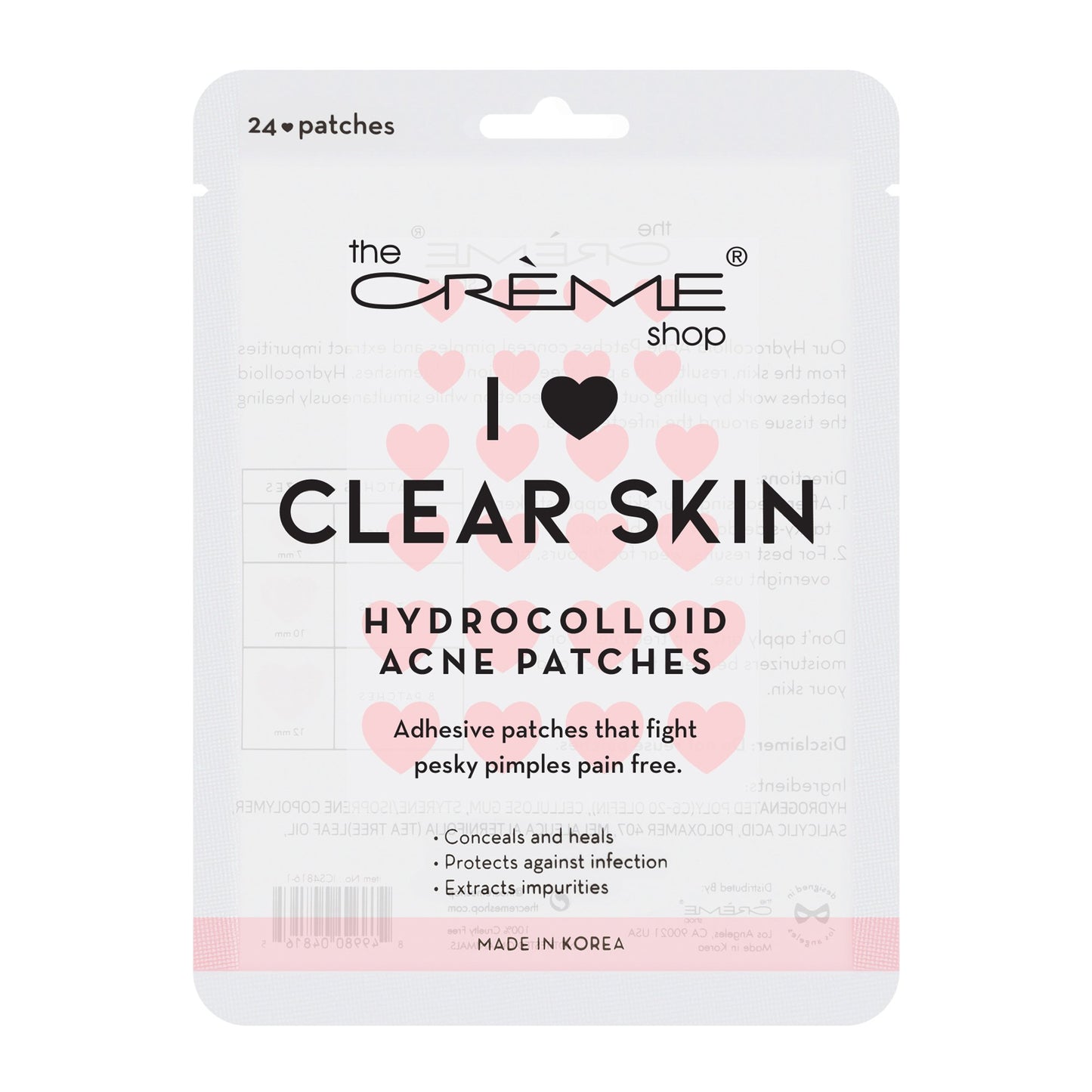 Rlly good
Worked really good on my skin I only had to use two
Skin Concern:
Acne-Prone, Dryness/Hydration, Blackheads/Whiteheads
AMAZING
These are so amazing oh my gosh, I've always struggled with finding pimple patches that stay on and work and these do both!!! I highly highly recommend!!!
Skin Concern:
Acne-Prone, Dullness, Dryness/Hydration, Large Pores
I'm in love
These work SO well oh my god. I'm literally in love. I have super acne prone skin and these are like life savers. I just use these overnight whenever I need to and the next day the pus comes out WITHOUT ANY PAIN. It works for other kinds of acne too, for example it helps in reducing swelling and redness. Even pain from acne. This is the best skimcare product I have ever used and I will buy them again and again.
Skin Type:
Combination, Sensitive
Skin Concern:
Acne-Prone, Hyperpigmentation, Inflammation, Large Pores, Blackheads/Whiteheads
these. actually. work.
I just re-stocked on these again. as well as some other stuff. but. these are soo cute!!! i mean, how can you not love little pink hearts? they are like cute little stickers you can wear next to your eyes as make up. i just love them. Best of all, they work. Without any irritation. Also, important to know... I have a problem with picking at my skin, so I wear them during the day as well, to prevent subconscious picking. And they're cute enough to wear out in public and own it. As mentioned, they look like cute stickers i'd put on my face to compliment my make up anyways. I'll be buying these for life.
Skin Concern:
Hyperpigmentation, Inflammation
Cute patches
These patches don't completely get rid of acne but they help calm pimples down and look cute!