The Crème Shop x BT21
Regular price
Sale price
$ 10.00
Unit price
per
Sale
Sold out
The Crème Shop | BT21
TATA Galactic Love Gel Nail Strips (Set of 35)
Instantly give your nails a super cute manicure with the help of The Crème Shop and BT21. Doesn't require dry time for a mess-free application. Peel, apply, file away the excess, and get ready to show off a salon-worthy manicure.
INCLUDES:
35 long-wear gel nail strips 

Nail file 

Prep pad 

Manicure stick
HOW TO USE:
Wash hands with soap and water. Clean with alcohol or nail polish remover and push back cuticles.

Select proper size for each nail. 

Apply starting at cuticle line and cover the entire nail surface.

Firmly press down from center, then side to side.

Fold excess material down, then file in a single direction in long strokes from top to bottom.
HOW TO REMOVE:
Using a manicure stick, create a gap to lift gloss away from your natural nail beginning at the cuticle.

Apply cuticle oil around the area.

Allow oil to loosen the strip for about 1 minute, then slowly remove the strip.
CAUTION: Do not peel off with force or one quick motion. Keep away from children. For external use only. If swallowed, get medical assistance immediately and/or contact a Poison Control Center. Stop use immediately and consult a physician if problems occur after use.
   Cruelty-Free
  Paraben-Free
  Sulfate-Free
Share
View full details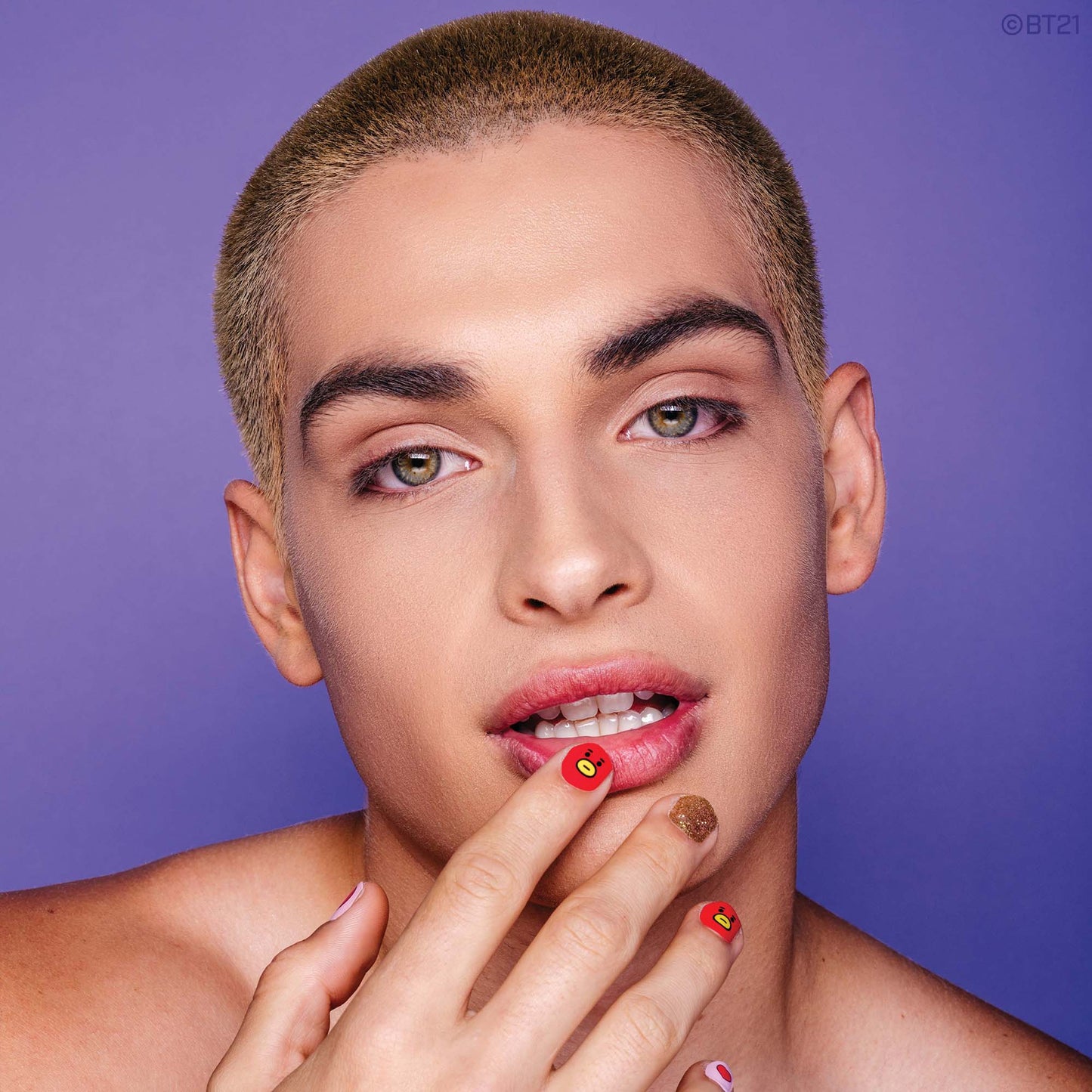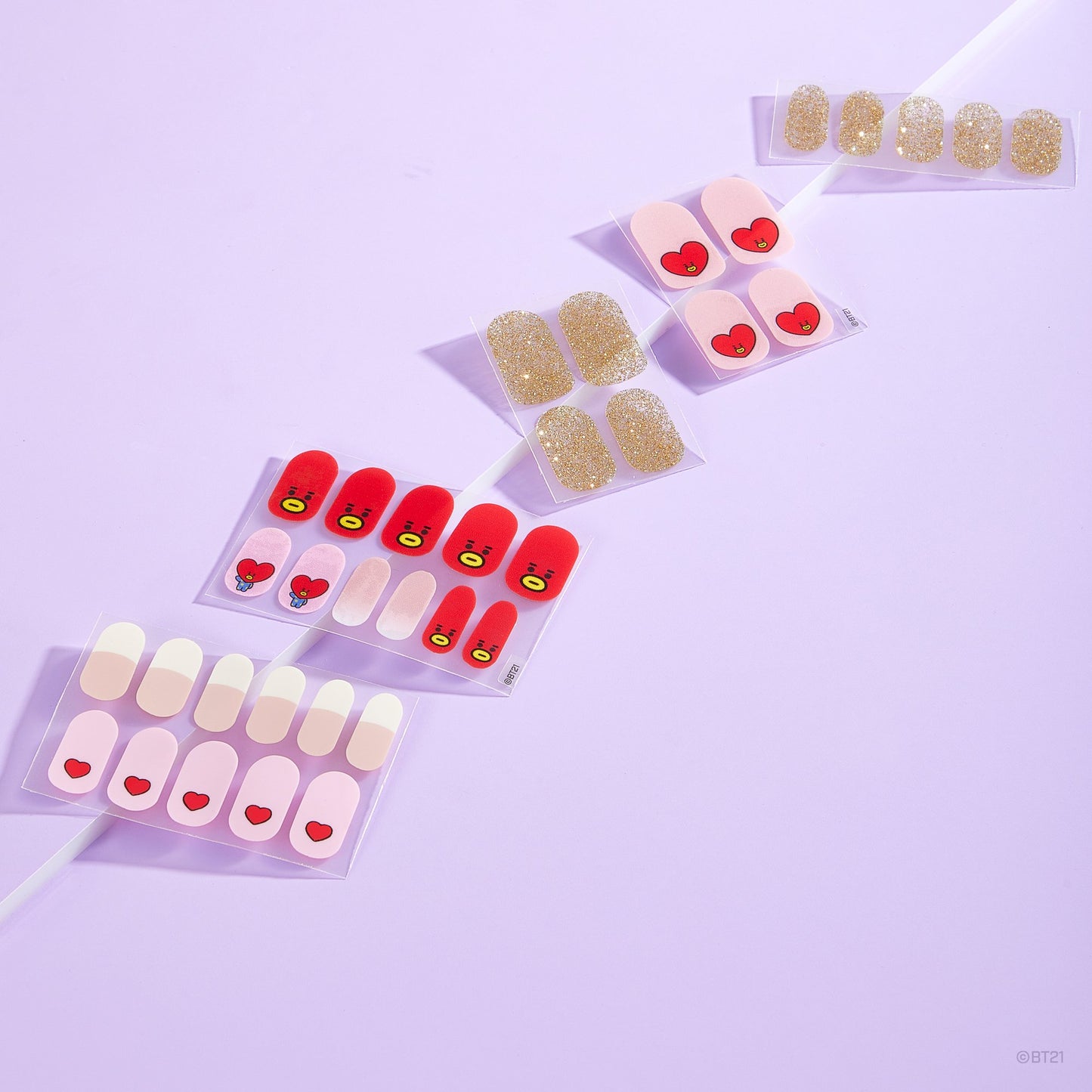 Skin Concern:
Acne-Prone, Signs of Aging, Dryness/Hydration, Large Pores, Blackheads/Whiteheads
Amazing
I love this product it's so cute and it's my favorite bt21 character.my mom got it for me and I just fell in love 🥰.
Skin Concern:
Acne-Prone, Large Pores, Blackheads/Whiteheads
Definitely getting more of this! Loved them.
I actually got this for a friend to wear for the recent activities related to BTS anniversary. I wasn't sure if they'd get here on time but they got here with plenty of time to spare. My friend couldn't wait so she wore them instantly and they lasted her the whole week before and even after all the activities!! I was throughly impressed at how well they held. And not yo mention how incredibly ADORABLE THEY ARE!!
Skin Concern:
Hyperpigmentation
Love this!
These arrived in time for the PTD Las Vegas concerts. They're so cute and easy to put on-they're also quite durable since I've had them on for about a week now! Will order these again, definitely…
Skin Concern:
Acne-Prone, Inflammation, Dryness/Hydration
LOVE SO MUCH
I absolutely LOVE these!!! I've been using nail polish strips for many years but THESE ARE AMAZING!!! They are really great quality and last so long -- on average these strips last me 7 days before they start chipping or the edges start lifting. Once you get the hang of the application technique these go on like a dream. One of my favorite things is the thickness of the strips because they do a lot to protect my very weak nails from breaking. Another great thing about these nail strips is that, unlike others, the strips leftover don't immediately dry out as long as you close the plastic packaging back up. I used these on my sister for the PTD concert, then I used them on myself, and was even to go back 2 weeks later and do a second manicure on myself with the other strips -- so I got three full manicures for $10. The different designs are so much fun and give you so many options -- these are without a doubt the ABSOLUTE BEST!!!
Skin Concern:
Dryness/Hydration, Large Pores
Cute!
I have not used them yet because I want to put them on acrylic nails since they last longer that way. They are so cute!